10 Screw Head Types: Different Self-Tapping Screw Head Types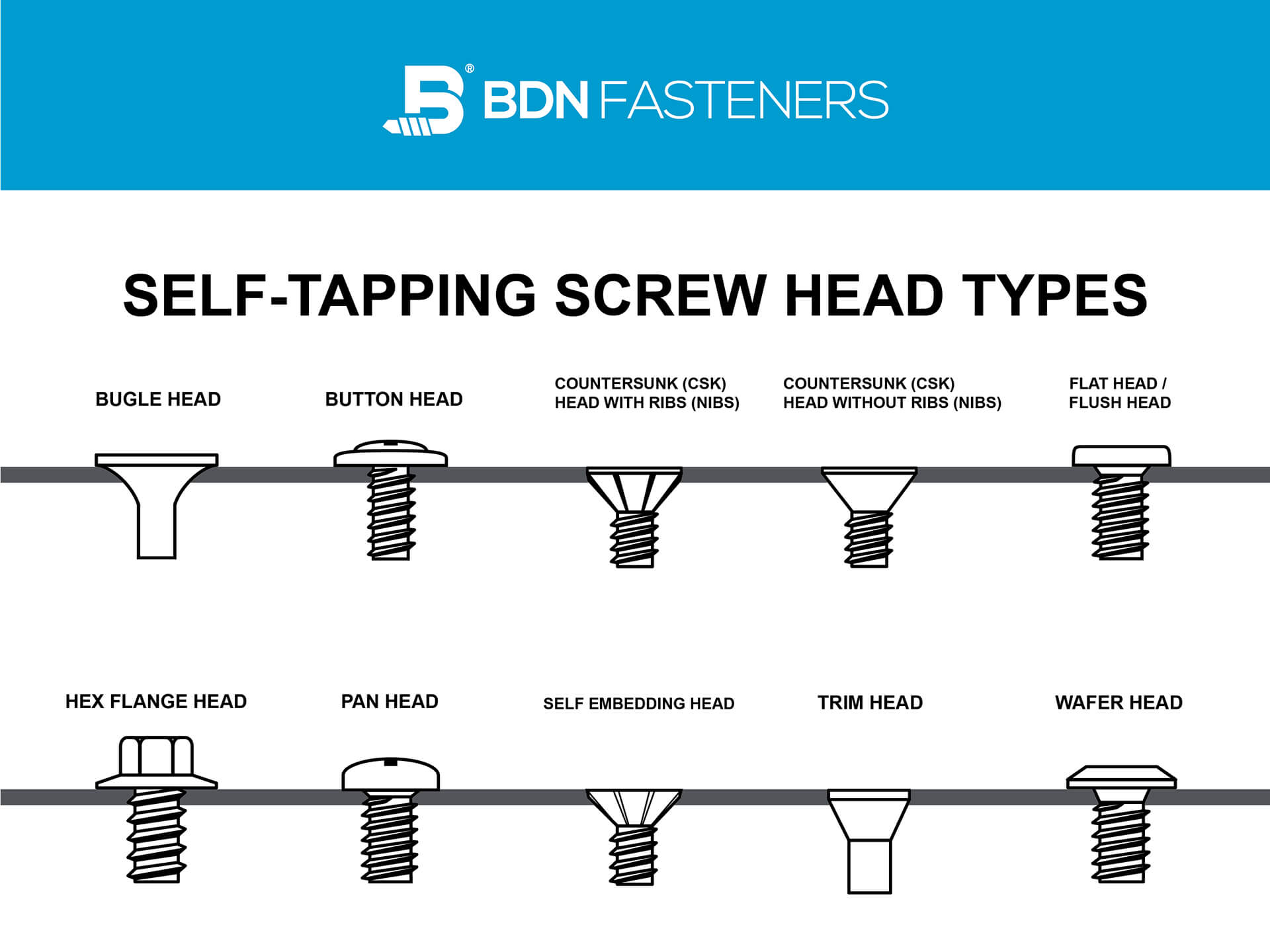 Self-Tapping Screw Head Types
A self-tapping screw has the ability to tap threads as it is driven into the material. It is often used only to describe a specific type of thread-cutting screw intended to produce threads in various types of materials, with sheet metal and wood being the most common.
BDN Fasteners offers a range of self-tapping screws. The screws come with either a self-drilling tip for metal or pointed tip for timber. After the tip creates a pilot hole, the thread then taps into the  metal or wood the screw is affixed to.
Regarding head types, screws are available in many different head types.  Some head types are very application-specific, while others are more versatile for general applications.  Head types are usually manufactured according to set standards according to the region used, though some might tweak or even tailer the design here and there in order to meet special requirements.
BDN Fasteners are manufactured according to the tried-and-true Australian AS standards, offering a good balance between cost and performance, and backed with an industry-leading warranty.
10 Screw Head Types
HEAD STYLE

DESCRIPTION

BUGLE HEAD

In the smaller gauges up to 8–gauge, this head style is generally used for plasterboard as it does not damage the face of the sheet. The 14-gauge screws with this head style are often used for landscaping and fixing heavy duty decking boards.

BUTTON HEAD

Screws with this head type are used for stitching thin steel together and the large head provides a good clamping force on the materials being fixed.

COUNTERSUNK (CSK) HEAD WITH RIBS (NIBS)

This head style is used in a broad range of timber applications where a flush finish is required for the fixing, and the ribs countersink the screw into the timber. It also comes in a variety of drive types depending on the application.

COUNTERSUNK (CSK) HEAD WITHOUT RIBS (NIBS)

This head style is generally used with screws that are fixing steel, where a countersunk recess has been pre-drilled.

FLAT HEAD / FLUSH HEAD

This head style is a low-profile type typically used where cladding is to be fixed over the top, including where plasterboard is fixed to a steel house frame. It is imperative that the head sits absolutely flat.

HEX FLANGE HEAD

This head style is used for a broad range of applications including roofing, cladding and timber fabrication, and comes in a range of gauges for heavier duty applications.

PAN HEAD

This head style is used with general purpose fasteners for fixing thin steel to steel or timber substrate.

SELF EMBEDDING HEAD

This head style is mainly used for fixing 3-6mm thick cladding such as Cement Sheet or Blue Board, and the ribs under the head countersink the screw into the material for a flush finish.

TRIM HEAD

This head style is normally used for decking or picket applications where a smaller head is required to avoid splitting the timber when it is installed.

WAFER HEAD

This head style is mainly used for fixing a variety of generally lighter materials to a steel or timber substrate.
Learn more about roofing screws >>
Internal Roof Insulation Installation with Self-Drilling Fasteners
How to use self tapping screws for metal?
https://bdnfasteners.com/wp-content/uploads/10-Self-Tapping-Screw-Head-Types-Introduction-BDN-FASTENERS.jpg
1440
1920
BROADEN
https://bdnfasteners.com/wp-content/uploads/logo2.png
BROADEN
2021-03-17 08:50:23
2023-09-20 13:53:03
10 Screw Head Types: Different Self-Tapping Screw Head Types