FAQ – Questions and answers
The most common questions in construction
4 common causes of metal roof leaks around screws
4 common causes of metal roof leaks around screws

Below is a list of common causes of metal roof leaks.
1. Choosing an incorrect screw
2. Over–driven screws
3. Under-driven screws
4. Misaligned or skewed drilling
---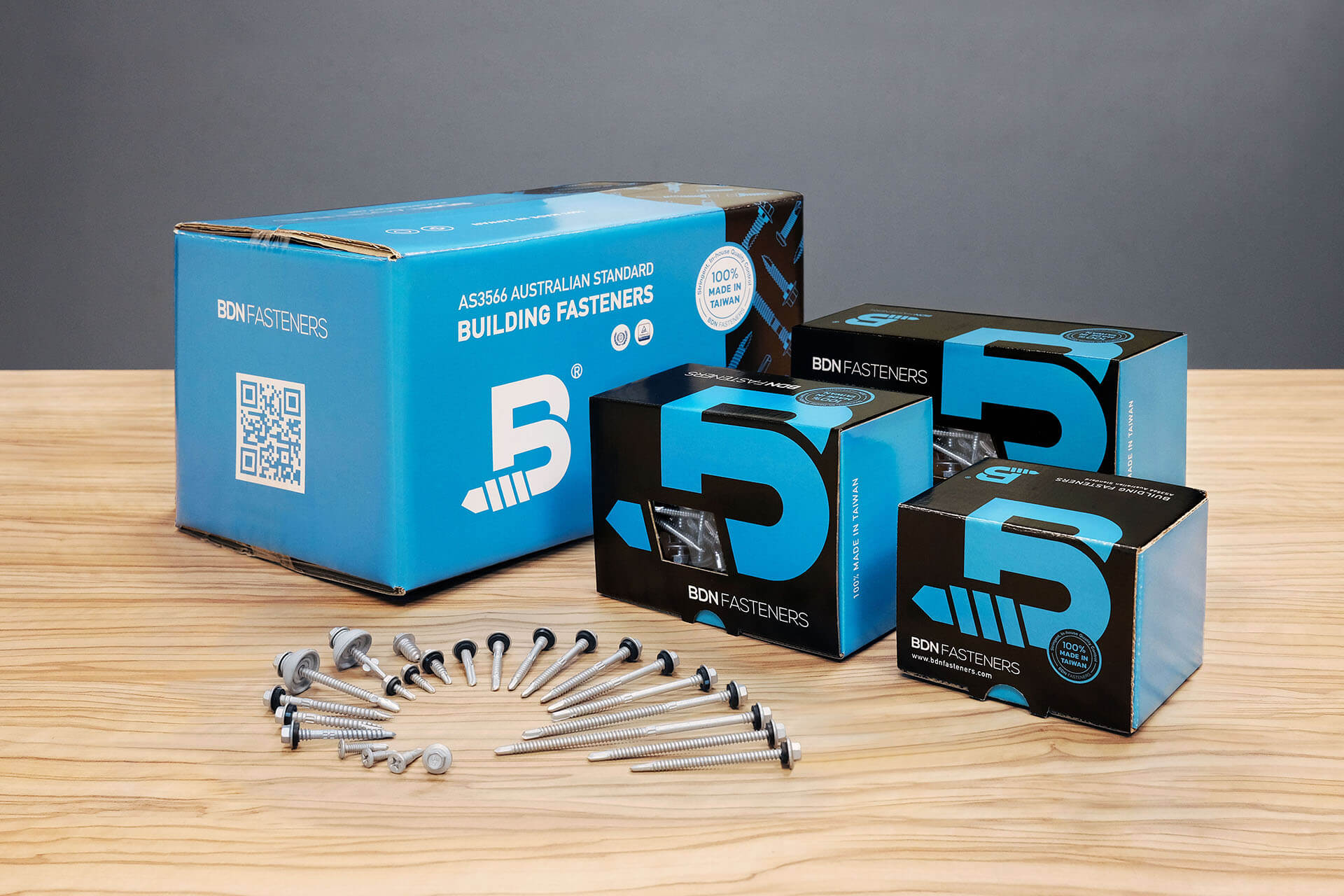 Some screws have extra features built in to enhance performance; oftentimes poor choice of fixings become the weakest link in a seemingly strong building structure.  BDN Metal-Tite® series roofing screws come with an enlarged hex washer flange, anti-static EPDM washer, double thread, Scratshank, and Ruspert anti-corrosive coating.
The large washer flange is designed so that the EPDM washer will remain fully covered after compressed.
Anti-static EPDM washers prevent galvanic corrosion.
The larger diameter upper thread close to the hex washer flange increases pullout values on thin metal sheets.
Scratshank clears out excess swarf, smooths out the drilled hole, and prevents damages to the EPDM.
Ruspert anti-corrosive coating fully protects the screw from weathering and extends the lifespan of the screw and the sheets it is affixed to.
DEKS Blue Line EPDM Washer Installation Guide

DEKS Blue Line EPDM Washer Installation Guide
Building it right to make it watertight

DEKS Blue Line EPDM provide an excellent waterproof seal— even under the most severe weather conditions— if properly installed.
The trick is not to overdrive or

underdrive

the screws.

If the screw is not tightened enough, moisture leaks around the washer. An overtightened screw squishes the washer too thin, which can also result in leaks.
Important Tip:

Replace worn sockets immediately if they cause the screw to wobble during installation. Crookedly driven screws can cause water leaks.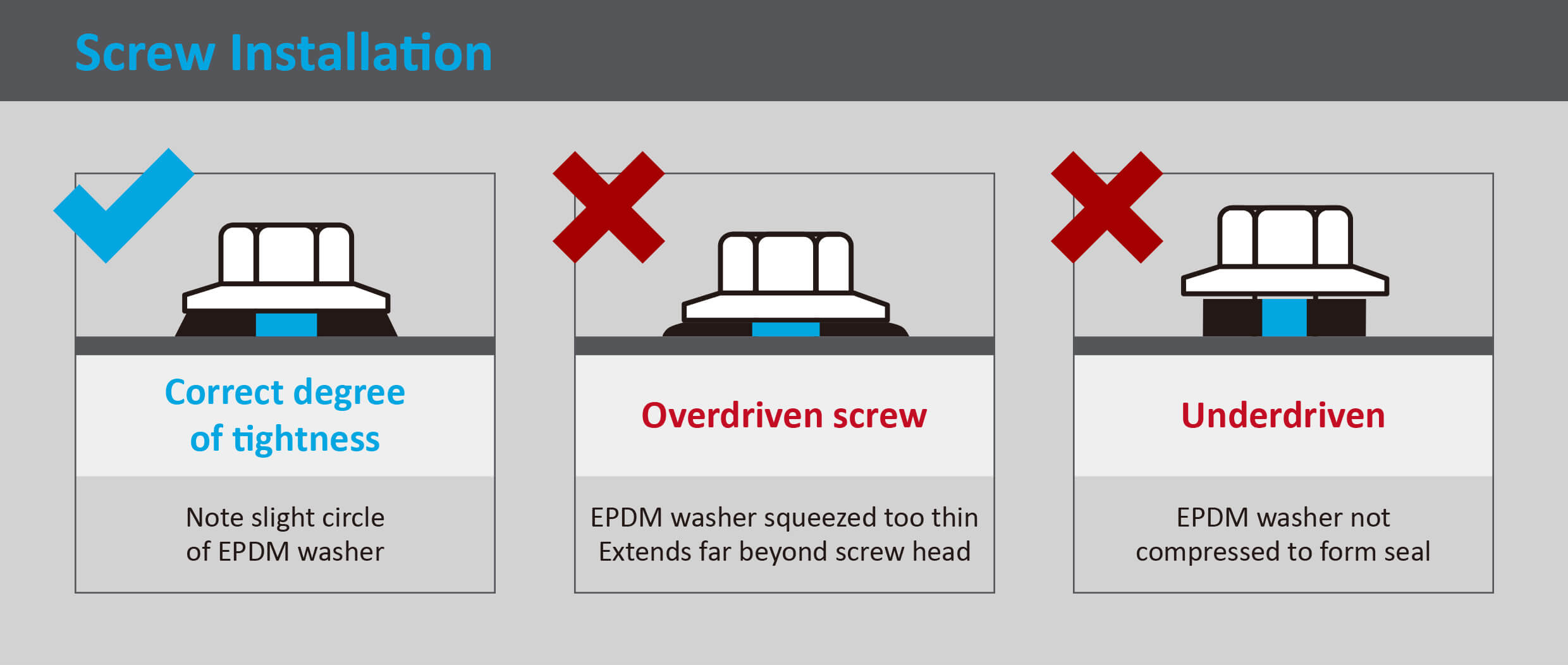 BDN POLYXPAND™ BAZ EPDM Washer Installation Instructions
BDN POLYXPAND™ BAZ EPDM Washer Installation Instructions
---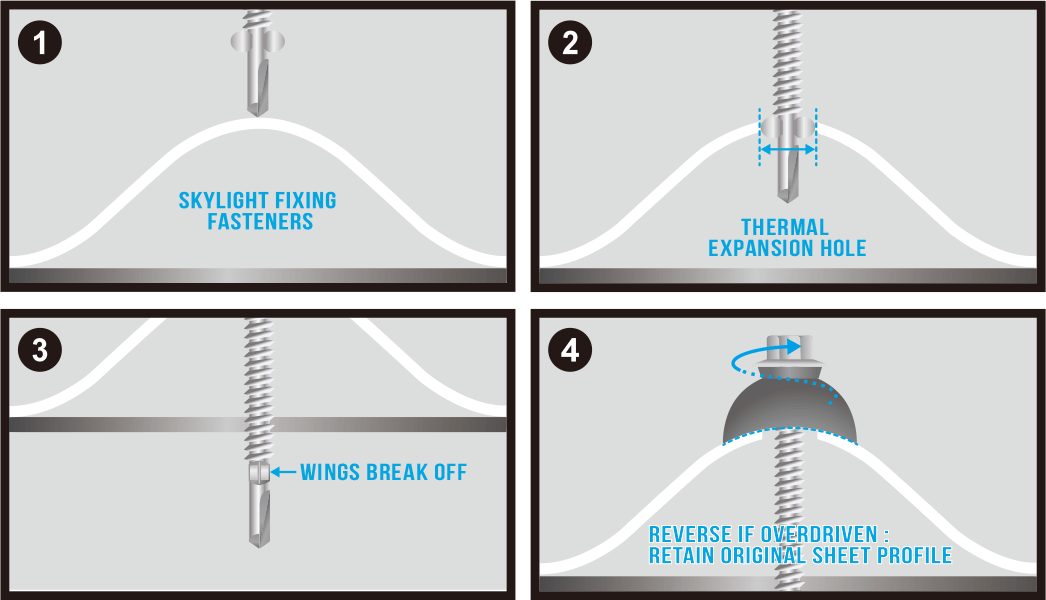 BAZ EPDM washers are the ideal washers to be used on polycarbonate sheets, especially corrugated ones. With a large diameter to fully cover expansion holes to provide the perfect sea and flexibility to conform to the curvature of the skylight, but at the same time, providing enough strength against high wind situations.
However, it is absolutely critical to not drive the screw to the point that the washer is squished, which will result in the washer losing its flexibility, and a gaping hole gouged out by the hex washer flange.
Self-Tapping vs. Self-Drilling Screws: Do You Know the Difference?
Self-Tapping vs. Self-Drilling Screws:
Do You Know the Difference?
---
Self-Drilling Screw – Steel Sheet / Steel Purlins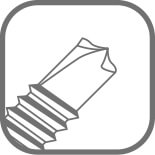 Trident Drill Point
✔ Improved Drill Performance
✔ Time Saving
Self-Tapping Screw – Timber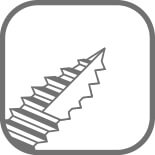 Type 17 Sharp Point
✔ Reduce Splitting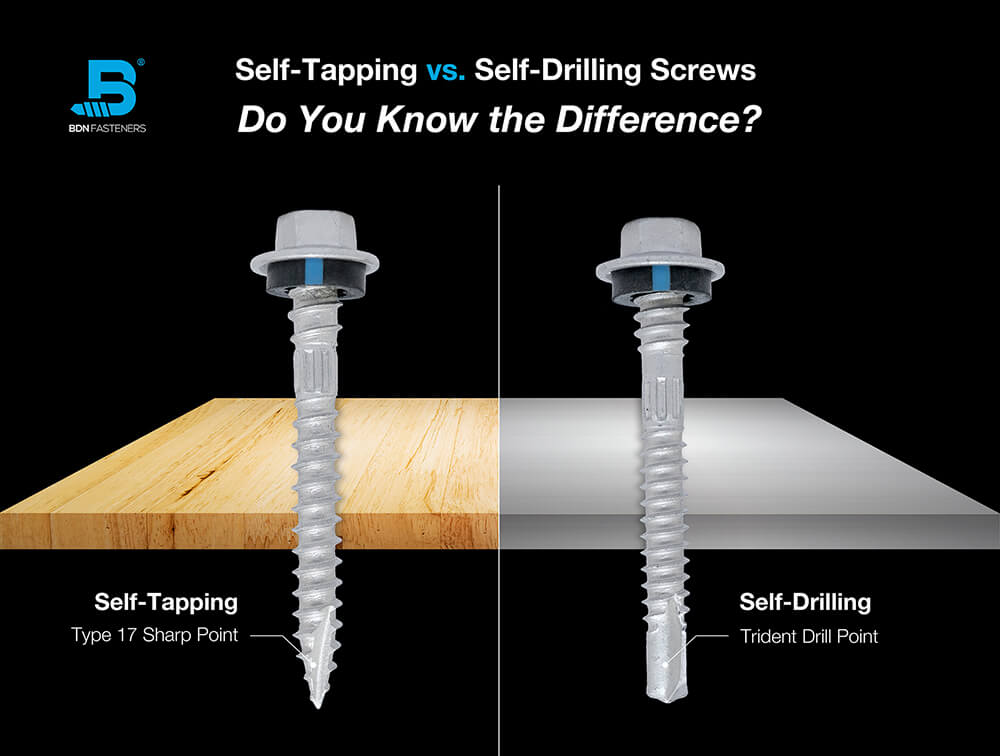 Patented Trident Drill Point
Patented Trident Drill Point
---
The patented Trident Drill Point provides fast and
steady drill performance, effectively clears swarf,
and drills through 6mm thick steel.
"S" Swirl: Creates a larger area of engagement from the initial drill drive.
Improved "Cutting Edge" Design: Larger, curved cutting blade edge lower manual load required.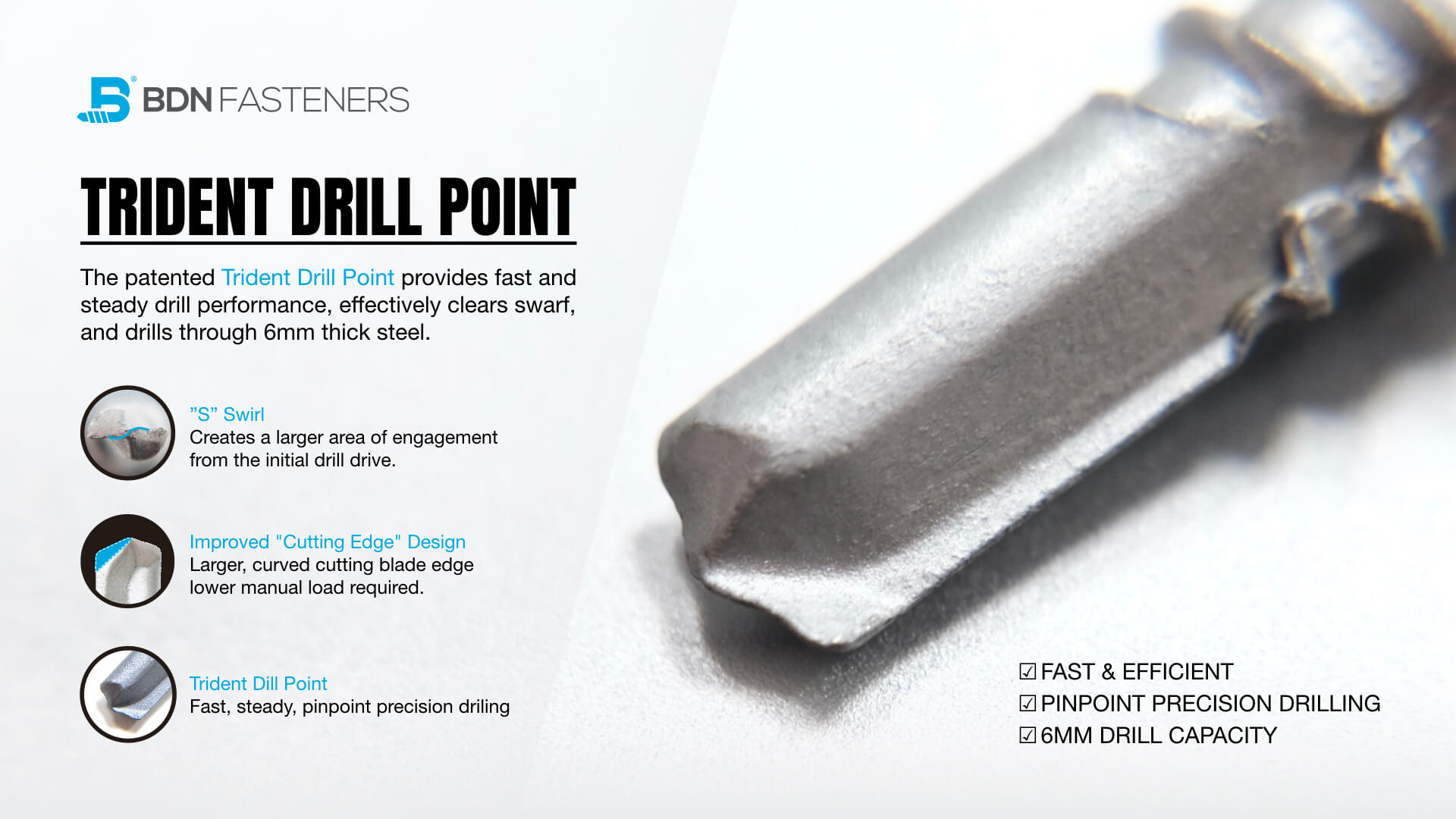 Incorrect screws create stress cracks and thus leakage on Polycarbonate or other Plastic Sheets
Incorrect screws create stress cracks and thus leakage on Polycarbonate or other Plastic Sheets

True Australian AS3566 Standard Hex Washer Flanged Head:
Separate EPDM steel bonded washer NOT required. (No risk of leakage)
Thermoset 100% EPDM BAZ washer:
☑Weathering Resistant (UV / Ozone / Acid)
☑100% Leak proof sealing
☑Perfect fit under hex washer flange
☑Optional metal washer add-on
☑Shock absorbing (for high wind areas)
Creates a 10mm dia:
Thermal expansion hole for plastics.
Winged Drilling Tip:
Wings break off once in contact with the steel purlins,
keeping the plastics sheets securely fastened.
BDN Fasteners Surface Coating Class
Here at BDN Fasteners, we have categorized the kind of environments to the following based on its characteristics.  Scope of warranty for our products are also based on the category the environment is classified to.
Dry, Rural Areas – Areas remote from the coast and sources of pollution; as well as all of the areas listed below.
Mild Urban or Rural Areas –

Areas with little to no chemical pollution, including but not limited to natural chemicals such as ammonia from livestock or carbon monoxide from log-fire.
Areas far from the coast with no impact from salt water spray.
Areas at least 2 kilometers away from any type of industry, light or heavy.

Light Industrial or Urban Areas

Light industrial zones, light manufacturing, warehousing, distribution, or limited light intensity activity areas.
Built up areas constituted of high human population and infrastructures.
Areas at least 1~2 kilometers away from light industrial or urban areas.

Small Industrial Zones

Areas located in or adjacent to small industrial zones.

Coastal Areas

Areas located approximately 2 kilometers from the coast.
---

BDN Fasteners – Surface Coating Class
Corrosion Resistance
Class2 – SST 500hrs + Kesternich 5 Cycles
Class3 – SST 1000hrs + Kesternich 7 Cycles & 15 Cycles
Class4 – SST 2000hrs + Kesternich 15 Cycles
✓ Australian AS3566 Standard
✓ SGS Certified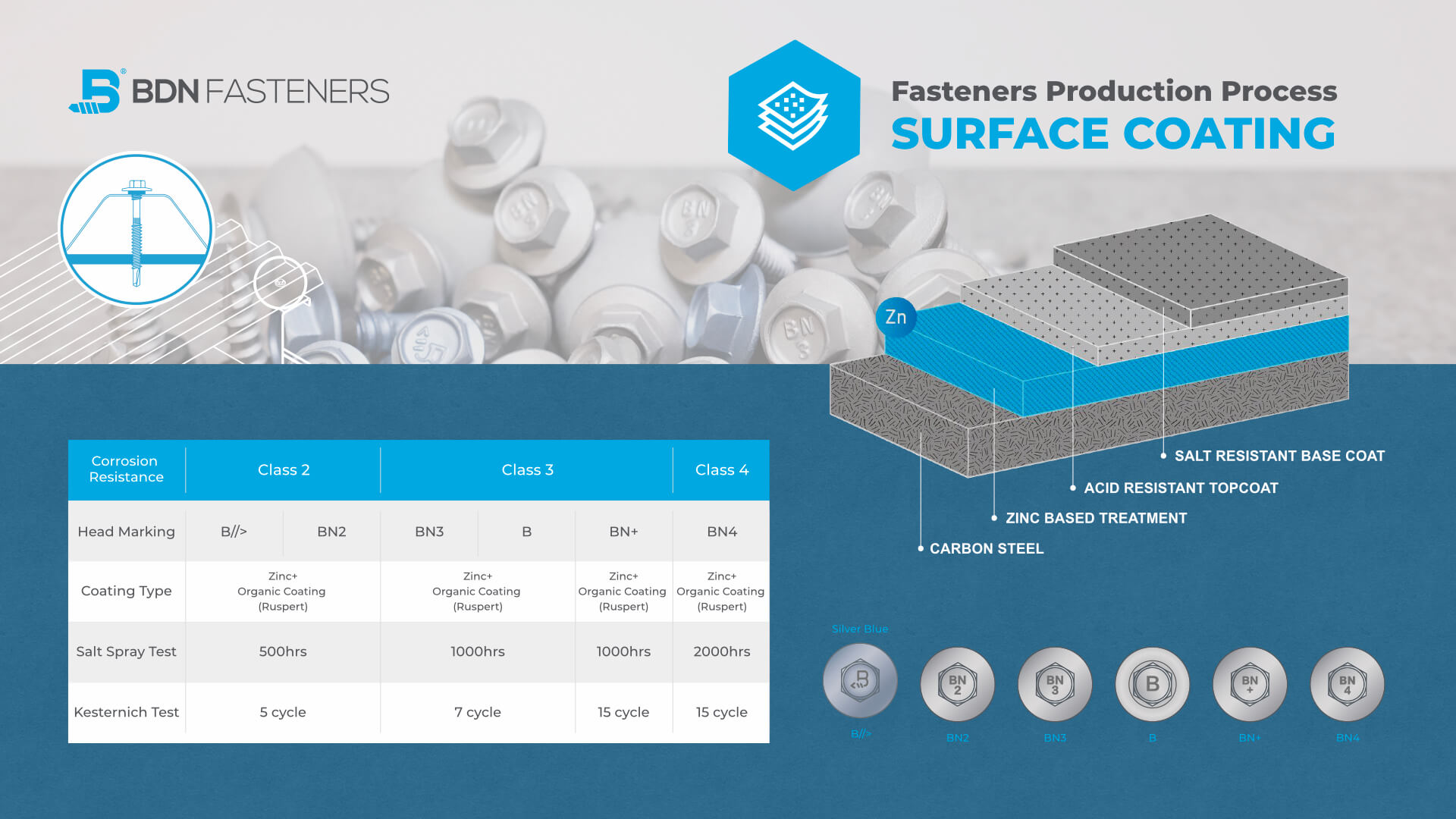 True Australian Standard-AS3566
The BDN Comparison-AS3566
---
BDN Fasteners
True Australian Standard-AS3566
Washer Diameter=13.97-14.78mm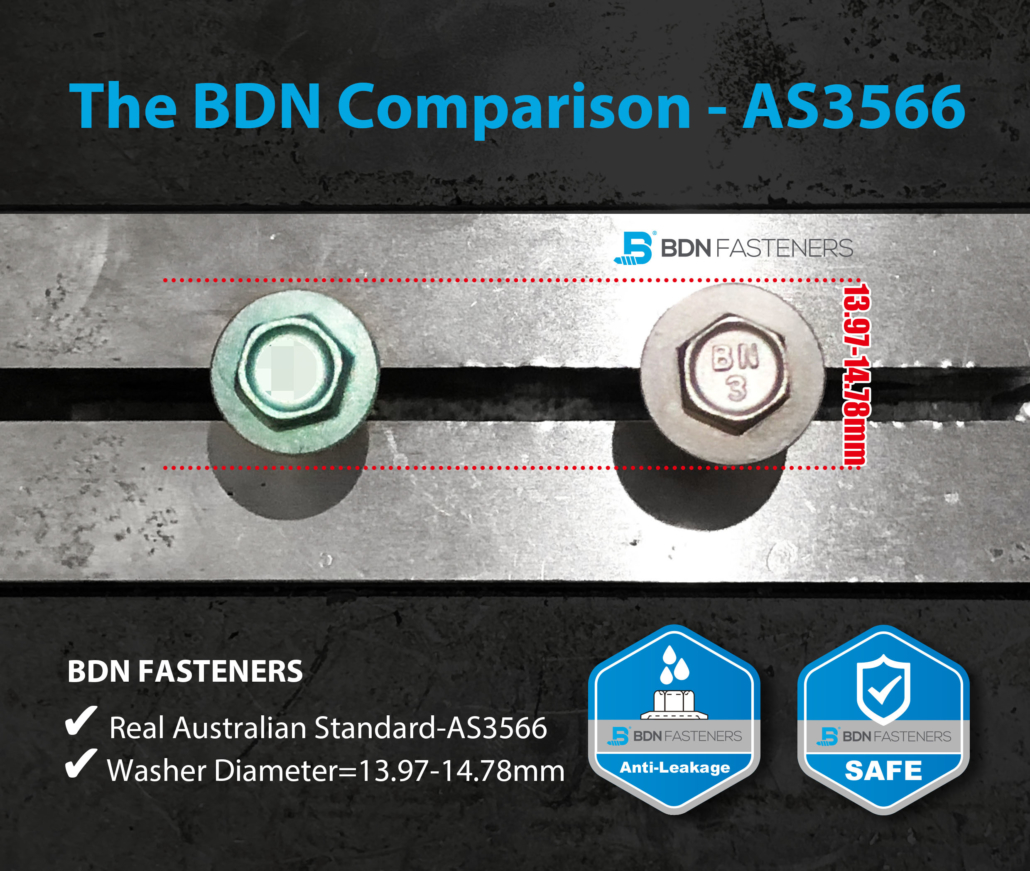 Scratshank
SCRATSHANK
---
Cutting / Break out the metal filings

Remain free of damage to sealing washer during installation – Weatherseal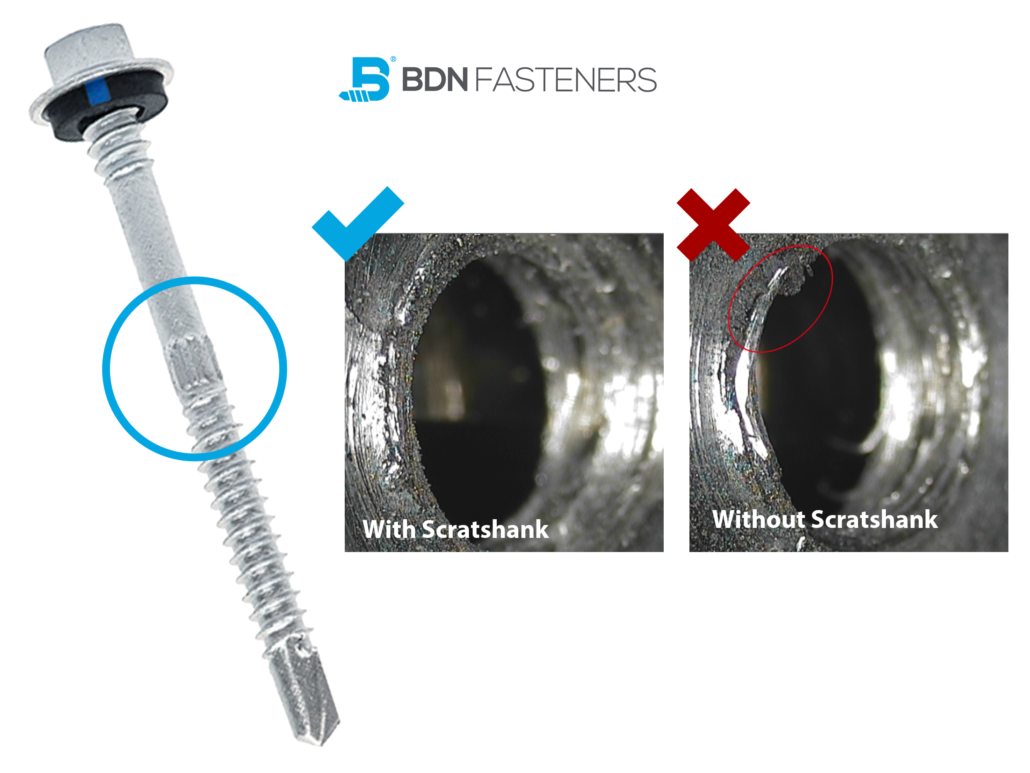 Double Scratshank: Swarf Free
Double Scratshank: Swarf Free
---
BDN Fsateners – Dual-Tite™ (Roofing Screw Duofix 2 IN 1)
Double Scratshank: Removes sealing washer damaging swarf during installation.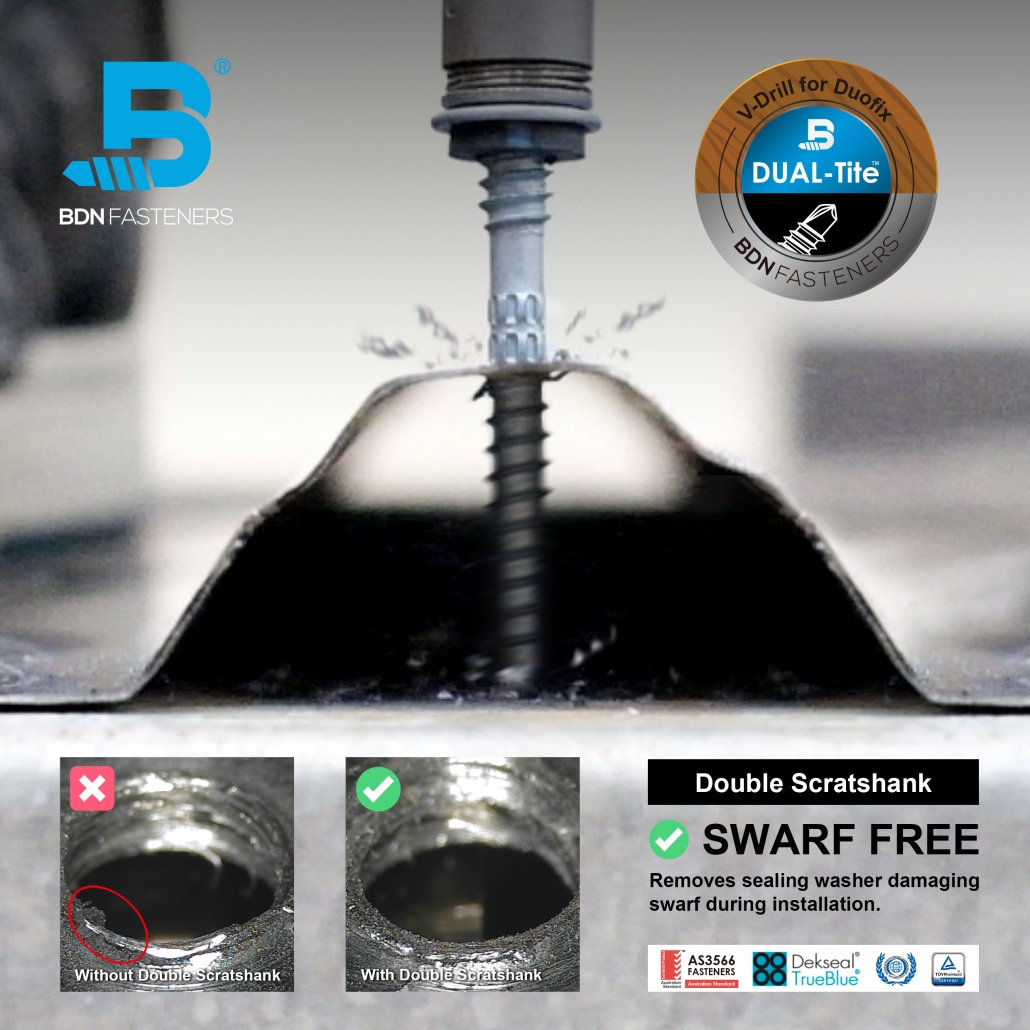 Harpoon Thread: Anti-stripping, roof fixing threads
Harpoon Thread: Anti-stripping, roof fixing threads
---
BDN Fsateners – Dual-Tite™ (Roofing Screw Duofix 2 IN 1)
Harpoon Thread: Anti-stripping, roof fixing threads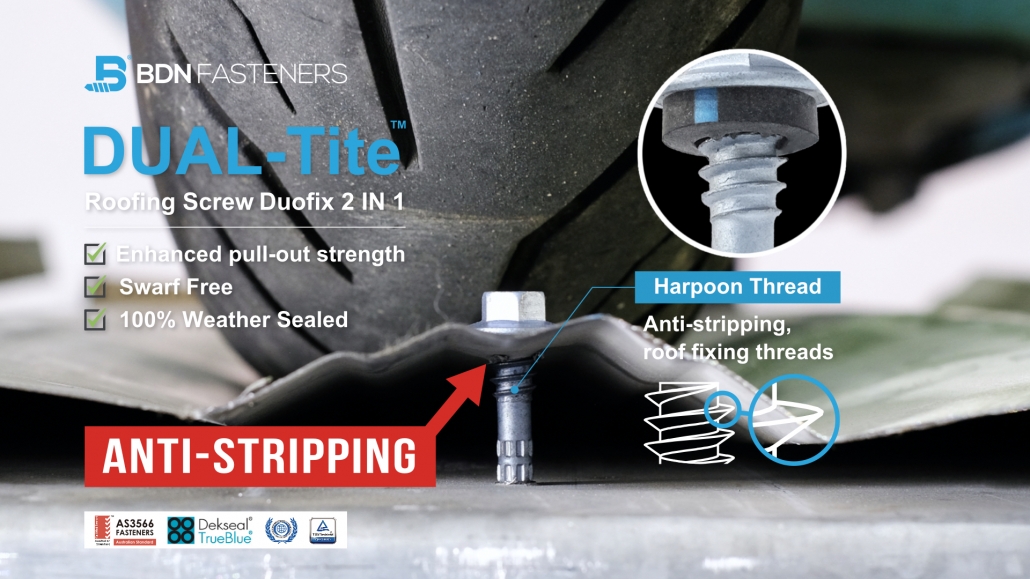 BDN Fasteners 100% Weather Sealed
DEKS Dekseal® Trueblue® 100% Weather Sealed
---
BDN Fasteners – B//> Series: Silver Blue / SST 5000hrs / Kesternich 5 Cycles
Hex Washer Flange: True Australian Standard-AS3566
DEKS Dekseal® Trueblue® 100% Weather Sealed
100% Made In Taiwan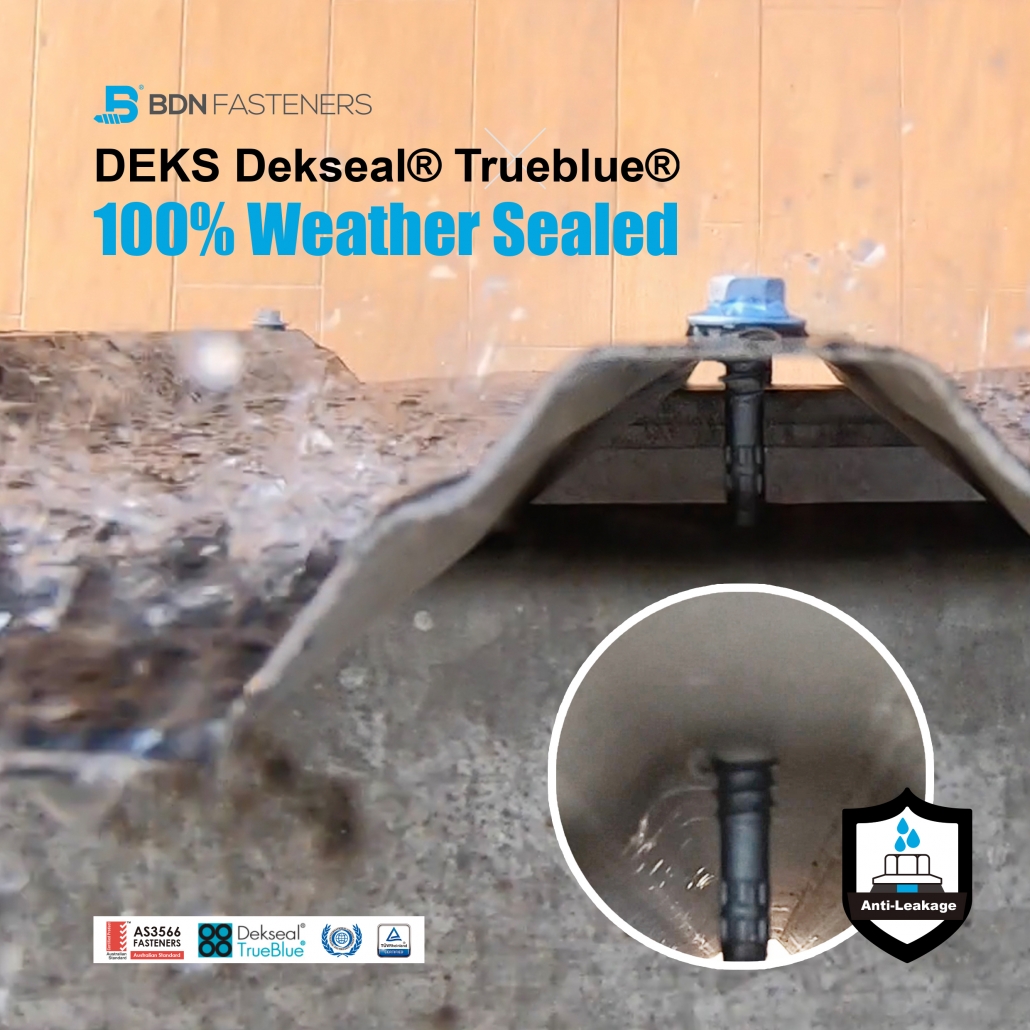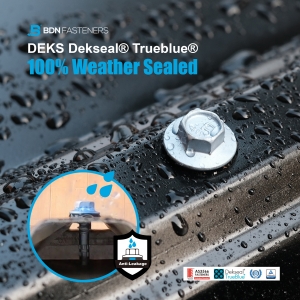 BN3 Series - DEKS Dekseal® Trueblue® 100% Leak proof sealing
BN3 Series – DEKS Dekseal® Trueblue® 100% Leak proof sealing
---
BDN Fasteners – BN3 Series: Silver Grey / SST1000hrs / Kesternich 7 Cycles

DEKS Dekseal® Trueblue®: 100% Weather Sealed
Hex Washer Flange: True Australian Standard-AS3566
100% Made In Taiwan