Types of Screws for Metal Installation
Types of screws for metal installation, BDN Fasteners has developed 9 types of screws for metal which are split into 5 categories for you to choose from.
The Origin of Screws
BDN Fasteners specializes in manufacturing self-drilling and self-tapping screws, and a wide selection of types of screws for metal fixing.
Although the origin of screws is up for debate and was known to be used as early as the first century B.C., and has evolved to a plethora of length, sizes, and specific usage, the basic function has remained to be affixing two objects together, securely.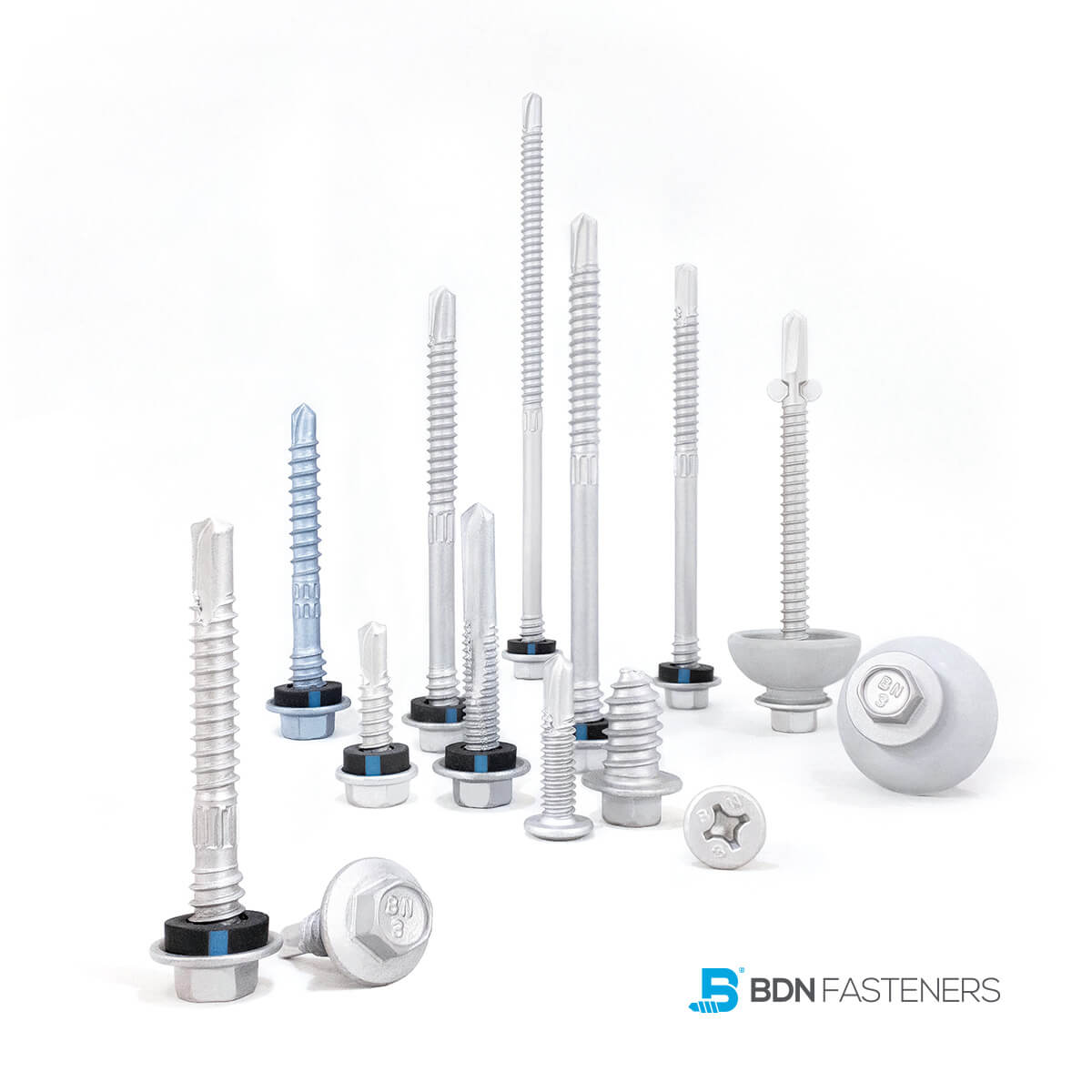 BDN Fasteners
Due to the ever-changing building regulations and codes which also differs from country to country, BDN Fasteners have developed 9 types of screws for metal which are split into 5 categories.
Regardless of the design and purpose these screws are aimed for, BDN Fasteners for metal include basic and proprietary designs which are manufactured to the highest standards, no corners cut.
Basic Designs –

Mechanical Properties – Follow AS3566 standards for Self-drilling screws for the building and construction industries.
Corrosion Resistant Properties – Surface coating designed to withstand the elements and can be adjusted to cope with specific weathering conditions.
Proprietary Designs – Specific designs offer unique properties that provide superior performance for all BDN types of screws for metal.

Trident Drill Point (Pat.) – Provides fast, steady and pinpoint precision drilling performance, effectively clears swarf and drills through 6mm thick steel.
"S" Swirl Drilling Tip – Creates a larger area of engagement from the initial drill drive.
Improved "Cutting Edge" Design – Larger, curved cutting blade edge lower manual load required.
Scratshank / Double Scratshank – Effectively cuts and break out metal filings around the drill hole, keeping it free of damage to sealing washers during installation.
Types of Screws for metal
The types of screws for metal include but are not limited to the following series:

METAL-Tite™

Fixing Cladding to Metal
Fixing to Thick Steel
Insulated Sandwich Panel Screws for fixing to metal
Crest Fixing Fasteners for Fixing Roof Sheeting to Metal
Concealed fixing for brackets or fixing clips for wall cladding.

DUAL-Tite™

Duofix 2 IN 1 Roofing Screw for Fixing Roof Sheeting to Light Metal and Timber.

TRUSS-Tite™

For the assembly of metal truss components through pre-punched holes.

FRAME-Tite™

Flat topped frame screw designed for stud to plate connections and connection lintels to plate without pre-punched holes.

POLYXPAND™

Fixing Polycarbonate Sheeting to Metal.  Offered in Crest Fixing and Valley Fixing screws for metal versions.

POLY-FAST™

Features a fail-safe thermal expansion hole cutting washer design for fixing Polycarbonate Sheeting to Metal.
For more information on BDN types of screws for metal, please contact the dealer near you, or send us an email at info@broadenal.com.tw.
Learn more about BDN Fasteners >>
Are screws recyclable? Two stages of screw recycling process.
https://bdnfasteners.com/wp-content/uploads/BDN-Fasteners-Types-of-screws-for-metal.jpg
1200
1200
BROADEN
https://bdnfasteners.com/wp-content/uploads/logo2.png
BROADEN
2022-03-17 14:38:12
2022-07-19 08:24:47
Types of Screws for Metal Installation