Tai-One Enterprise & BDN Fasteners® hereby declare
In light of recent rumors from certain companies declaring affiliation
with Tai-One Enterprise or BDN Fasteners®, we hereby announce:
Tai-One Company is the sole authorized agent and distributor of BDN Fasteners® in Thailand and in no way affiliated with other brands and products.
BDN Fasteners® is a trademarked brand in both Taiwan and Thailand.
All of the BDN Fasteners® branded products sold by Tai-One Enterprise are manufactured, packed, quality checked, and imported directly from our factory in Taiwan.  BDN Fasteners® Taiwan holds all of the patents, intellectual property rights and export records to be provided upon request should the need arise.
All BDN Fasteners® goods imported by Tai-One Enterprise are legally compliant with the Thailand import rules and regulations; while all sales and services are VAT invoiced and provided to customers.
We thank you for the trust and support of Tai-One Enterprise and BDN Fasteners®. Kindly call us for more information and verification should you hear any rumors that differ from this announcement.
Tai-One Enterprise & BDN Fasteners® hereby declare the above information are true and correct.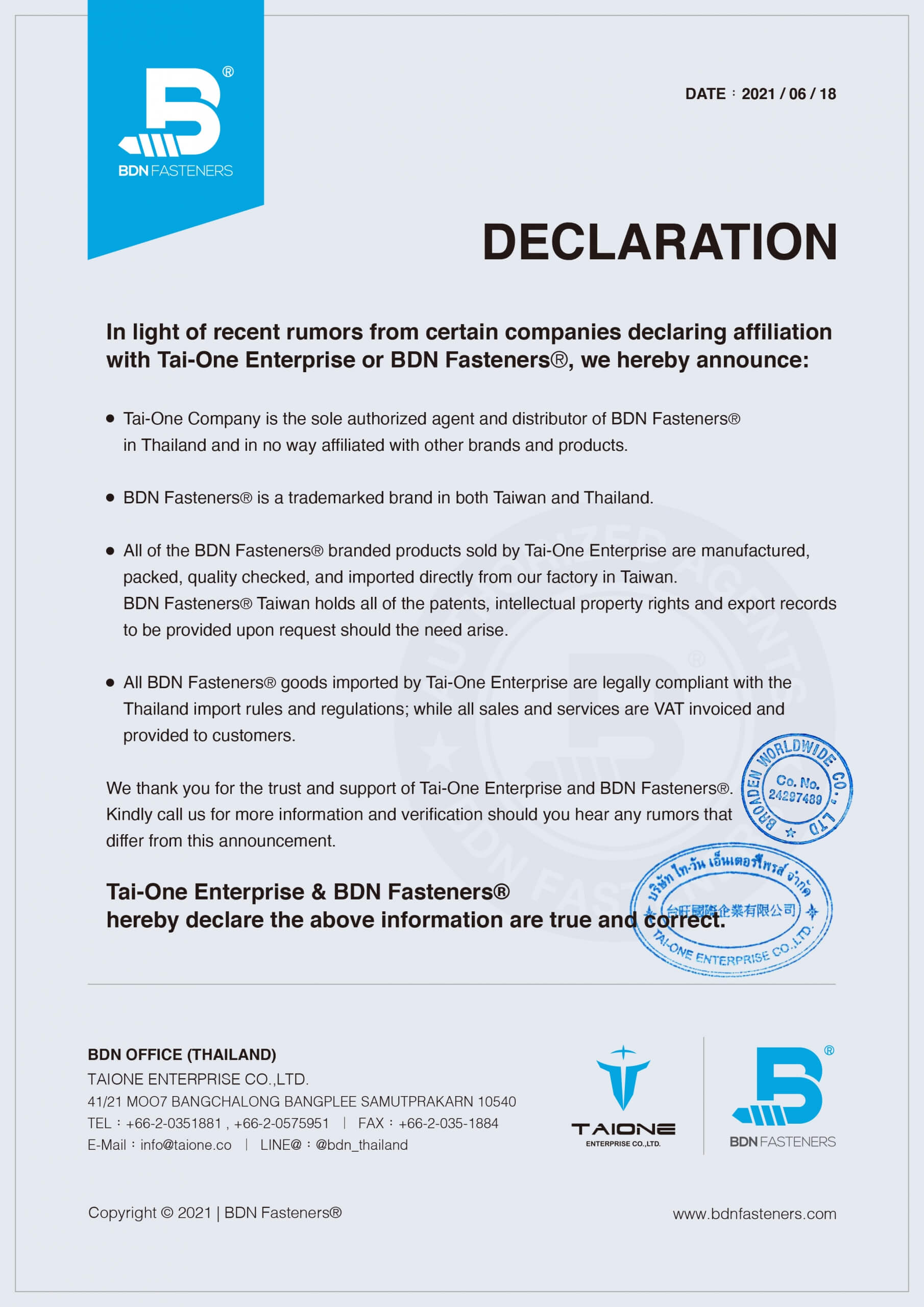 https://bdnfasteners.com/wp-content/uploads/Tai-One-Enterprise-BDN-Fasteners-DECLARATION-scaled.jpg
2560
1810
BROADEN
https://bdnfasteners.com/wp-content/uploads/logo2.png
BROADEN
2021-06-18 16:10:06
2022-12-21 11:29:31
Tai-One Enterprise & BDN Fasteners® hereby declare